Selected EVents - Click an interest area below:
This will be held on Sunday, Septemeber 18th, 2016, at 9 Industrial Parkway South,
Aurora, ON L4G 3V9, from 12:00 PM to 5:00 PM (EDT)
NOTE:
This event replaces our regularly scheduled meeting for September 2016 normally held at Centenial College on the 3rd Thursday of the month.
---
Centennial College Show & Shine
June 1, 2014 @Ashtonbee Campus
Date: Sunday June 1, 2014
Time: 9:00am - 4:00pm
Location: Ashtonbee Campus,
75 Ashtonbee Road, Scarborough, ON
Free Admission to the Public!
Click Here for Poster
More Info: John Mifsud @416-289-5000, ext.4235
or email:
jmifsud@centennialcollege.ca
---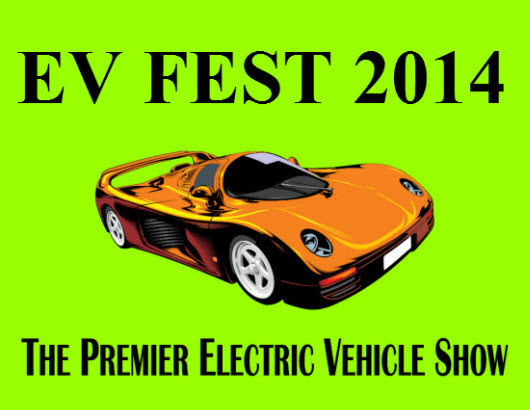 June 15th, 2014, EV Fest 2014:

Register Here
to get your Tickets Now!*
*To get the Advance Ticket Pricing -
Register Before June 15th!
To Save Even More Money on tickets
- watch for the
Specials
running on the
EV Fest Blog; Follow our Twitter Account; or Watch our Facebook Page
Like the EV Fest Page on Facebook Here!
For Electric Vehicle Society of Canada Members - Please use this code:
http://bit.ly/1eiXppN
in your email, and in your signature, to promote EV Fest 2014 Guest Tickets!
To See a selection of Electric vehicles on display - Click Here for EV Fest 2014
.
---
What is an Electric Car? January 12, 2011



PDF Printable copy of this image - click here!





Agenda:





What an Electric Vehicle (EV) is.

Basic Drive Train---Joel Clemens, EVS
Introducing the EV

Basic Components---Darius Vakili, EVS
How the components fit together

Lead Acid Batteries---Paul Olsen, Ontario Battery
Cost effective, dependable, available

Power from the Grid---Tom Odell, Toronto Hydro
from the grid to the vehicle

Conversions and a course available here---Emile Stevens, EVS
Your opportunity to be an owner

Q&A---just a few questions


---

Safety---Jeff Turner, Ontario Ministry of Transport, (MTO)
This is paramount and very important

Li-ion batteries---JP Fernbach,
The latest, the lightest, and an excellent power source

Registration---Mandeep Flora, MTO
The steps to get the vehicle on the road

More drive train---Joel
Now you are informed

More components---Darius A little complicated but we show you how

Money---Howard, for High Schools the money trail is needed
TD Bank have a program for such activity, plus your local hydro

Q&A---All presenters
The EV story should now be complete.




We had a very excellent turn out at EV FEST 2010 - Held October 17, 2010! Plan to Attend next years show! Register Here to join with those who want to take advantage of Early Bird Tickets for EV Fest 2012.



2010 Details:

When? Show Date: October 17, 2010!
What Hours? Show Hours: 11:00 A.M to 4:00 P.M.
Where? Show Location: Toyota-Lexus On The Park: 1077 Leslie Street,
(Leslie & Eglinton), Toronto, ON M3C 2J7

What you will see:
Electric Vehicles including Cars, Trucks, Motorbikes, Hybrids, Plug-in Hybrids, eBikes, Electric Scooters, Trikes, and More!

All Exhibitors: Corporate (for Profit) and Volunteer (not for profit), register online, via the registration tools provided on the EV Fest website

Guests Register now to be in the front of the pack to see New OEM Electric Vehicles, Personal Electric Vehicle Conversions, Local Company Electric Vehicle Prototypes, High School Electric Vehicle Conversions, Mobility Devices that go one step further, Electric Bicycles, Electric Scooters, a completely new Vehicle Prototype, and even a very unique Hybrid Electric Horseless Carriage!

Guests Register for Tickets at EV Fest Today!
When? Show Date: April 10, 2010!
What Hours? Show Hours: 11:00 A.M to 4:00 P.M.
Where? Show Location: Scarborough Toyota: 1897 Eglinton Avenue East, Toronto, ON M1L 2L6 > MAP to Dealership<
Get your Souvenir copy of the poster Now!
(11 X 17" Tabloid Size - But can Print on Letter Size as well!)
New Addition - EVSurge Single Sheet Flyer - Ready for Handouts!

Initial Categories of Electric Vehicles Included:
Previous OEM EV's: Ford Ranger Electric,
Personal Conversions: Ford Escort 72 Volt EV,
Highschool Conversions: Early Student Conversion - Pontiac FireFly
eMileage Engineerus in Prius PHEV's,
Scarborough Toyota's A123/Hymotion PHEV Prius + 2

Current Commitments you can Come and See, Touch & Learn About, Include:


Electric Escort: 'ESCORTEV'
PORSCHE 944: 'SM944'
1989 Pontiac Firefly: 'electricfly'
Ford Ranger OEM EV
Chevy S10 EV Conversion
1974 Dodge Dart Swinger: Work-in-Progress EV Conversion
Electric Lithium Iron Phosphate Hybrid Trike
A123 Hymotion PHEV Prius
Enginer PHEV Prius
Toyota Camry & Prius Hybrids
2000 Honda Insight


There will Also be Scooters, E-Bikes, Other Plug-In Hybrids, Information, Entertainment, Video's and Special Offers! (TBA)

Possabilities - we would like to see make it: (Click the Link to see more about it!)
Electric Postal Jeep, Custom Design "TE Option 1 electric car", International Harvester Cub-Cadet 582 "Cub-E", Fastest & Longest Range eLectric DeLorean, 'ForkenSwift - EV conversion on a beer budget', John Deere 755 "Stealth Tractor", 2002 Chrysler PT Cruiser "Bob's Electric Runabout".
Some of these vehicles could be brought here to show - if we had a Sponsor for them. Some from as far away as New York are willing to bring their vehicle - but need sponsoring for Transportion costs, at least! If you are offering to be a sponsor in this matter - please contact the editor: editor@evsociety.ca to present your offer.

Other items available during the Show: BBQ & coffee

If you have an EV - Conversion or OEM: Car, Truck, Bike, Scooter, or Trike that you want to have here, Contact editor@evsociety.ca for advance info!
(Please include your Name, Ph. #, City, Vehicle of Interest, it's Web site link url, and any other Info suitable.)

Other Links to this show - from Planned Attendees and Supporters:
www.aaroncake.net; Robert Weekley - Electricfly
Back to top
---
Electric Avenue 2013!
Sunday, May 26, 2013
10 AM - 3 PM
More Info on the
Blog
, and
Ticket Information Page!
---
June 9 -10, 2010: Green Fleet Expo 2010
Don't Miss the 2010 Green Fleet Expo!
Details Here.
The fifth annual Green Fleet Expo (GFX), hosted by the City of Toronto with support from the City of Hamilton and Fleet Challenge Ontario, is the premier show for fleet managers interested in greening their fleet.
This exciting two-day event is being held at Centennial College, Ashtonbee Campus - Aviation Hangar, in Toronto on June 9 -10, 2010
There were over 300 attendees at last year's event in Burlington. Guests attended seminars on a variety of topics, such as: The Electric Vehicle Future; What's new in Operations Maintenance; and Programming your ECM for Fuel Savings. They also visited over 17 exhibitors to learn more about the latest technologies, vehicles and equipment.
---
Zero Motorcycles Demo Event in Mirabel, QC @ XTown.ca
Time:
October 31, 2009 from 10am to 2pm
Location: XTown
Street:
16250 Rang St-Dominique
City/Town:
Mirabel
Website or Map:
http://www.xtown.ca
Phone:
(450) 432-4299
Event Type: electric, motorcycle, demo, event
Organized By: Stephen Bieda - Zero Motorcycles (Electric) & Ecomoto Montreal
Event Description
Come test drive a Zero Motorcycle just 45 min North of Montreal at a really cool indoor MX Track called XTown. The free event is from 10am - 2pm.
We will also have a couple Zero S Supermoto bikes for those who don't do dirt.
Call David from Ecomoto to RSVP - 1.866.948.MOTO
For facility information call - 450-432-4299
Back to top
---
August 28 - 30, 2009: Power of DC 2009
EVA/DC is announcing it's 9th Annual Power of DC EV Racing event August 28-30 in Hagerstown, Maryland. On Friday we will have an EV Display at Comfort Suites Hotel, on Saturday will be the SCCA EV AutoCross and on Sunday will be the
NEDRA Drag Racing
at Mason-Dixon Dragway. See the
Power of DC
website for more information.
Also in conjunction with the Power of DC will be the East of the Mississippi EAA Conference and launch of Charlie Garlow's X-Treme Bug-E project across the US. See
www.funruninthesun.org
for details on the Bug-E journey.
For specific links:
www.powerofdc.com/links.html
"We are going to have two, maybe more, TESLA roadsters to race. Plus, we are working on Nissan, Ford and General Motors, among others, to join us with what they have to show and tell. There may be some last minute HOT news on the majors and their participation in our EVents, so stay tuned to our web site, www.powerofdc.com and even the EVADC website www.EVADC.org."
- Charlie Garlow, "East of the Mississippi" EAA Chapters Conference Chair.
Back to top